The people have spoken! Last month I had a little poll where everyone could place their vote as to which of my four new garment patterns they wanted to knit up in the next knit-a-long.  The Haru pattern won by a landslide between all the blog, Facebook, Twitter, and Ravelry votes!
This convertible garment is a must have in every knitter's wardrobe!  The unique construction and reversible stitch pattern allows for this piece to be worn many different ways…. so many I lose count.  Haru is knit in a silk ribbon for the body and a linen for the border and sleeve caps.  This is a perfect piece for the hotter months that are just around the corner.  And its sized from XS all the way through 5XL, no one is excluded from being allowed to make this piece.
Wont you join us???  Five lucky KAL participants will receive a prize at the end.  All you have to do is join!!!  We have already gotten started, but its not to late to join!  Please feel free to share your thoughts, ideas, yarn suggestions and questions in the group!  I hope to see you all there!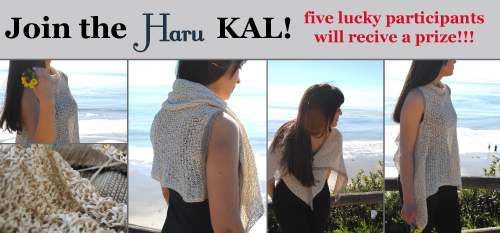 Congratulations to Pinterest follower Donna Nicholaides winner of the Silver Lining giveaway.  Please email me@graceakhrem.com by Sunday, June 8th to claim your prize or it will me forfeited.